Clueless

hi im kimmy.
so. there. hello.

Scribbles
Them.
aggie
eka
luu
dox
ms. morts
your link here.
WWW


FAST 2005 Multiply
OC fans
Brokenframes



Past


10/01/2003 - 11/01/2003 11/01/2003 - 12/01/2003 12/01/2003 - 01/01/2004 01/01/2004 - 02/01/2004 02/01/2004 - 03/01/2004 03/01/2004 - 04/01/2004 04/01/2004 - 05/01/2004 05/01/2004 - 06/01/2004 06/01/2004 - 07/01/2004 07/01/2004 - 08/01/2004 08/01/2004 - 09/01/2004 09/01/2004 - 10/01/2004 10/01/2004 - 11/01/2004 11/01/2004 - 12/01/2004 12/01/2004 - 01/01/2005 01/01/2005 - 02/01/2005 02/01/2005 - 03/01/2005 03/01/2005 - 04/01/2005 04/01/2005 - 05/01/2005 05/01/2005 - 06/01/2005 06/01/2005 - 07/01/2005 07/01/2005 - 08/01/2005 08/01/2005 - 09/01/2005 09/01/2005 - 10/01/2005 10/01/2005 - 11/01/2005 11/01/2005 - 12/01/2005 12/01/2005 - 01/01/2006 01/01/2006 - 02/01/2006 02/01/2006 - 03/01/2006 03/01/2006 - 04/01/2006 04/01/2006 - 05/01/2006 06/01/2006 - 07/01/2006



Credits


All images by Kimmy
template by maystar
powered by blogger
images hosted by photobucket
Sunday, November 28, 2004


THIS is how it's DONE. the OC way.



what do you think, huh? let's just say i moved on the drama queen. and now, it's OC time. yeah. well, the template is not completely done yet. i still have to..


put a pic in the sideline ---------->
put your blog links.
put some random www linkages.
fix the pic above to get rid of that stupid blogger ad if it's still shown there.
put an OC quote on the pic.


waaahhh. im working on it.


but c'mon, check out this friggin layout! haha. the gossip girl meets the OC. oh oh, and scroll down to the bottom of the page.. this page won't be OC without the cast, eh?


sooo... what do you think?


ok, gotta start fixin. laters.

blotted @ 3:27 PM


--------------------------------------------------------------------------------------------


Sunday, November 21, 2004
Jack Jack kicks ass.


just came home last night. i was occupying a lot of space in the mart to think that the train was jampacked. i had like my back pack, my expandicase plus my paperbag and handbag. like people aren't looking at me, i had to pretend like violet with my hair covering half of my face.




The Incredibles was suuuupppppeeeeerrrr (that super) funny. and it was just helluva movie. how'd they ever thought of that?! anyway, if you haven't seen it, well.. you better. haha. watched it with mar and the kids.. mga pamangkin ni mar. funny, we ended up being the babysitters club. hell yeah, it's kid's night out! haha. but had uber fun (i'm using uber, celine lopez will kill me.) anyway, i slept over at mar's house.. and we had the well, and OC feast. everything OC makes us happy.

everything seth makes even more happy. and drooly. yeah. seth cohen. that name just takes it all away. ok and adam brody too, but it's like the same person.

anyway, as usual, me and mar are the camera hugger/ whores/ addict/ lovers/ obesses/ whatever-you-call-it of the year. go pick a word. we just had to pose and smile. the lens of camera hypnotizes us.. haha. we're in love with cameras.

maybe, i'll share a pic. oh darn, haven't loaded it up yet.

haha.

laters.

blotted @ 1:40 PM


--------------------------------------------------------------------------------------------


Tuesday, November 09, 2004
ms. couch potato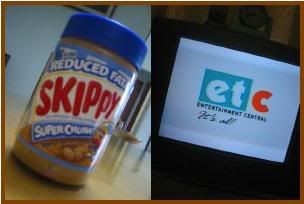 this has basically been my life during the sembreak. im getting skippyfat right now. and the tv is my bestfriend. :)

justin timberlake's SNL hosting was supppppperrrrr funny. if you missedit, gwad, you missed like the funniest thing you'll ever see on SNL. haha."bring it on it on omeletteville!", his punk'd spoof and jessica simpson spoof,and the beegees spoof was totally head cracking funny. (head cracking?)

anyway. my dad's in the hospital right now, he got into this accident, fell offthe ladder while climbing up the roof to check our water tank. so, he'llbe staying there for a while.. his achilles' tendons got ripped inside andthey had to operate it, plus his cast and crutches right now. can't walk.he's ok. but he'll probably be spending christmas on cast and crutches orphysical rehab, so he can walk well again. he's ok. but we miss him around the house. love him. get well soon dad.

i miss the boss.

laters.

blotted @ 5:48 PM


--------------------------------------------------------------------------------------------



Barb's Debut


it was total fun. haha. well, i arrived at past 8 which is like an hourand a half late.. but at least i didn't end up like jobel and the rest/haha. it started around 5 minutes after i arrived, so i was just in time anyway.

barbs was looking so great.. looking so, well, 18. party was fun. i meanthe food was uber great, love the salmon. and det ate those garlic lookinrice, eeek. i still love the salmon and the chocolate cake. anyway. wewere all looking.. formal, and i was wearing that purple gown from titorene's wedding. yep. p-u-r-p-l-e. as much as my room is a purple haters room, soooorrry. i didn't wanna specnd thousand bucks.

(haha. billy's bright lights is on mtv right now. yey)

back to the story. well, it's pretty much summed up to this: akafellassinging happy birthday, barbie's video was hell of kind pure genius whoevermade that, her bro was really sweet, the moments and treasures were such tearjerkers, more crying, more dancing (although the dancing was bitin.)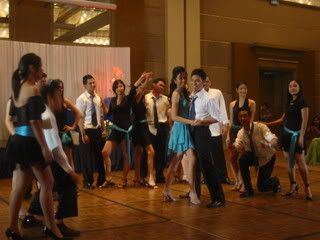 barbs in her blue dance outfit, i missed to take a pic of her gown. guessi was too mesmerized with the whole thing, i was lazy to take pics. she wasreally gorgeous though, i really have to say. the white gown was elegant too.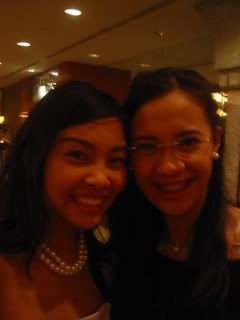 my x-factor oooohhhweeee ayesa.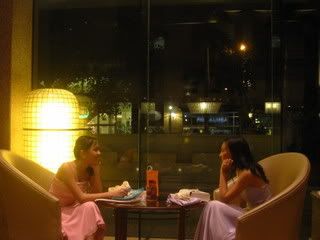 me and ags.. ain't it nice :)

btw, there was a goldfish in a fishbowl on every table. gawd, it was looking at me while i was eating. totally freaked me out.

happy birthday ngongongway. you're legal now.

laters


blotted @ 5:42 PM


--------------------------------------------------------------------------------------------


Thursday, November 04, 2004
I'm sailing to Tahiti. now.



well. there goes season 1. gawd, i love that season. i love that show. i cried. and cried. and cried. i'm such a sucker for these things. such a tearjerker. i was talking to eka, and i was sobbing. *sniff, sniff*

oh well. please oh lord, make ETC show season 2 already. please please please.

here's a teaser. ARRRGGGHH. the excitement is killing me. please don't make me wait for months and months and months. i swear, that'll be a struggle.




ok. that. and here's the one i love the most.




awww. here's the trick, if you click the pic (guess what. haha) you'll be linked to the site of the season 2 promotional pictures. then, you'll kiss me after that.

see. i'm not an OC selfish. i share. except for Seth. HE'S MINE. :)

laters.

ok fine. here's one more.




ooooohhhh. i love.


blotted @ 4:47 PM


--------------------------------------------------------------------------------------------