Clueless

hi im kimmy.
so. there. hello.

Scribbles
Them.
aggie
eka
luu
dox
ms. morts
your link here.
WWW


FAST 2005 Multiply
OC fans
Brokenframes



Past


10/01/2003 - 11/01/2003 11/01/2003 - 12/01/2003 12/01/2003 - 01/01/2004 01/01/2004 - 02/01/2004 02/01/2004 - 03/01/2004 03/01/2004 - 04/01/2004 04/01/2004 - 05/01/2004 05/01/2004 - 06/01/2004 06/01/2004 - 07/01/2004 07/01/2004 - 08/01/2004 08/01/2004 - 09/01/2004 09/01/2004 - 10/01/2004 10/01/2004 - 11/01/2004 11/01/2004 - 12/01/2004 12/01/2004 - 01/01/2005 01/01/2005 - 02/01/2005 02/01/2005 - 03/01/2005 03/01/2005 - 04/01/2005 04/01/2005 - 05/01/2005 05/01/2005 - 06/01/2005 06/01/2005 - 07/01/2005 07/01/2005 - 08/01/2005 08/01/2005 - 09/01/2005 09/01/2005 - 10/01/2005 10/01/2005 - 11/01/2005 11/01/2005 - 12/01/2005 12/01/2005 - 01/01/2006 01/01/2006 - 02/01/2006 02/01/2006 - 03/01/2006 03/01/2006 - 04/01/2006 04/01/2006 - 05/01/2006 06/01/2006 - 07/01/2006



Credits


All images by Kimmy
template by maystar
powered by blogger
images hosted by photobucket
Tuesday, September 27, 2005




ORANGE.

today is one of the most exciting days of my life.. if you saw me today, i'm probably dead speechless and numb because of a certain moment that kept me off guard and that made my mouth fall wide open and my feet stick to the floor. haha.

anyway. more craaziness throughout the day with Drea, my dear blockmate. haha.

oh. and just when i thought things were really happening for me today, at the end of the day, i have this mixed emotions about something. arrgh. me and my drama. i feel like shit man.

miserable little loner whose day happens to be the numbstrucking lovesicking craziest long day.
blotted @ 10:43 PM


--------------------------------------------------------------------------------------------


Sunday, September 25, 2005


Archers to the finals baby!



he steals.. he runs.. he dives.. he drives.. he scores! and the lasalistas go craaaaazy!

Joseph Yeo.

hands down.

this game was his. it was all YEO and the team's amazing defense. the team's guards are the greatest. another hands down. ooooh! and the pep squad's Arana dance, and Tang, Yeo, Arana, Cabatu's picture taking scam in the middle of the court was the funniest thing. haha.

Happy Birthday TY Tang!

still my court hero. haha. it's the finals beybeh!

Yeo owned the game. and the UAAP mates. :)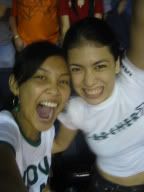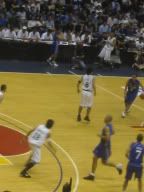 blotted @ 9:25 PM


--------------------------------------------------------------------------------------------


Saturday, September 24, 2005


What girls really do inside the girl's room



it's amazing how Aggie and Eka can make me buy a buy-the-bucket considering that i'm very kuripot when it comes to food. haha. well actually, i was hungry na din naman. haha. it's the first time since... ugggh... since i can remember that the tres marias, the angels, are together.

we watched

Perfect Catch

. the lines are the so great, really witty and the characters are just too perfect. but that's not the point. it's such a perfect movie because i was watching it with the 2 girls that i love. (oh yes, how mushy.)

2 Single + 1 Widow + A tearjerker romantic comedy movie = gaaa. too hard to describe.

the thing is. no matter how bitter i am about my loneliness in the world. these 2 girls makes me feel that i'm love. it's amazing how they make me happy. it's amazing how they go with me tothe bathroom twice in 10 mins. it's amazing how they keep up with the camera. it's amazing how we all pull off a million poses for the cam. it's amazing how we never get tired of each other. it's amazing how we try to surprise each other even though it backfired. it's just amazing to have these girls.

about the questions way up there. maybe this can give you an idea. (right girls?) haha.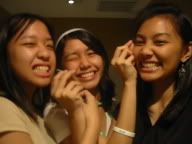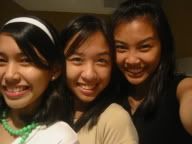 blotted @ 10:05 PM


--------------------------------------------------------------------------------------------


Monday, September 19, 2005


L-A-S-A-L-L-E LaSalle RAH!





hyper mode.

i watched the Lasalle/Ateneo game last thursday and the Lasalle/UE game this afternoon. wohoo. victory for the green and white. watching these games brings out the

animo pride

in me. mehn.. i never thought i'd be cheering my lungs out for lasalle. haha. had so much fun watching the games, and it's even more fun watching the archers win. oh well, im so hyper im lost for adjectives. pictures galore. im better with that than words. haha.

Hail! Hail! Hail!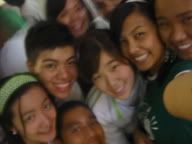 watched the lasalle/ateneo game with my blockmates. we scored upper A seats! woot! (from left: nadia, eej, meh, kimmy, drea, (below) jed, (up there, mga singit) gaille and jowell) haha. Y2's with us.. but she's not in the picture.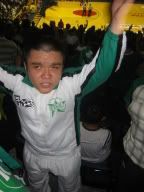 this is our pep boy. haha. he was right there in front of us, cheering. haha. naaawa na nga kami sa kanya kasi di nya na napapanood yung game tapos siguro naligo na sya sa laway naman sa kaka cheer namin. haha! this one's for pep boy! *apir!* haha.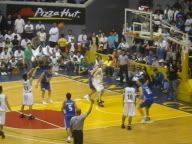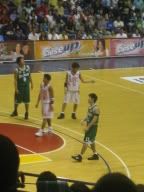 of course. my archer man.

TY Tang

. he's soooooo good. that's it.

gaa... TY Tang.

but

Yeo

redeemed himself during the rematch with UE. made 20+ points.

Slasher.

Tang was sort-of injured. awww. haha. im such a dork. I'm in my TY mode ok?! bear with me! haha.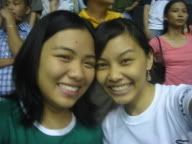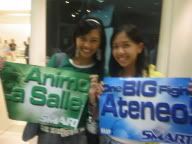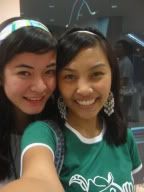 i watched the UE game with

Kathoy

and *err* Chris and Philip. haha. (and my family. yes, they have the animo pride na rin.) it's so fun having close friends in ateneo.. make the games more fun. hehe.

Wags

and

Mar

- my eagle friends. haha.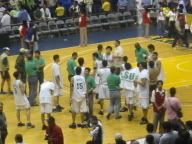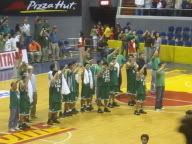 The Green Archers.

Hail to these guys. (and Tang, my court hero. ok, imma shut up.)
blotted @ 12:16 AM


--------------------------------------------------------------------------------------------


Sunday, September 18, 2005
some people drunk dials and some

drunk texts

.

haha. felt like saying that.
blotted @ 12:40 PM


--------------------------------------------------------------------------------------------


Tuesday, September 13, 2005
3 freaking hours

that's how looong i waited in line to get hold of La Salle/Ateneo tickets. i was there around 7:30, but im already No.256 the first one was there since 8pm the night before. Tiyaga mo shoong! booth opened at 9am, got the tickets around 10:30. some people are gonna kill for those tickets (erg, people in front and some fired up daddys and secretaries.) but not me, i'm just gonna wait in line and read Alamat ng Gubat. Thank You Bob Ong for making me laugh in the middle of my impatient-ness. haha. Good thing Eya was there, i had someone to talk to. Inna and Lia were there too.

it was my first day of the second term and i was early for my second class. haha. saw my blockmates again, arrgh. i did miss them and lasalle too. gee.

where did the patron, lowerbox and upper A tickets go?! those die hard old alumni lasalle and ateneo fans are really... die hard. to think that some people get good tickets without having to wait in line because of connections.

some people are just lucky and some are just patient.
blotted @ 9:30 AM


--------------------------------------------------------------------------------------------


Sunday, September 11, 2005


because we KARE



just so you know,

KARE

means

K

ids

A

ctively

R

ockin for

E

ducation. it's a benefit concert for the kids of payatas.. and the best way to end the term break.

turns out that

Eka

and I were the early birds, besides that bunch of laugh trip highschool girls (yeah, highschool.) the supposed-to-be first band is late. haha. callalily, so unprofeesional. tsktsk. 1hour and 30 mins late! lagot kayo kay janel! hehe :) anyhoo.

Imago

played first, and after that.. people started pouring in.

we felt like VIPs, actually.. we were

VI

freaking

Ps

. hanging out in the band room and Eka was even rubbing shoulders with

6 Cycle Mind

's lead vocals (haha) and not to mention, we were eating free food (yummy potatoes and hard to chop beef). we're like a bunch of lunatics in the band room, actually.. only the guys were lunatics. Kean, Mac and Aaron were freaking hyper and couldn't stop playing their level-up

sagidisagidisapopo

and their

on-the-spot rapping

. and they just cant stop hugging the freaking cam. but will we.. EKA AND KIMMY let the boys have the cam for themselves?! NO FREAKING WAY. they can beat us in sagidi and rapping but no way will they top our cam vainess. haha. *apir eka!*



loooooves you erika mae dizon.



we're trying to fit our faces in the cam. but Kean's got a big face.



Callalily

rocked the house. YEAH! haha. im not being bias! the crowd liked them, especially Lemuel.. he was a drum god. GREAT GREAT GREAT.

Go Kuya!

:) ladilalalala.

Tinted Mind

s rocked! ok, acoustically. hehe.

Go Ate Sher Rock On!

her new-found dance moves *ehem* sways. grrrrreat :) even though their the only acoustic band there, you guys were oh-so-great. how come ate sher is musically inclined eka? haha. (can you tell? im still hungover, minus the booze. one cup shared with eka. boys are pigs. haha.) mehn! Mayonnaise was really really good. really, their live performance is sooooooo good. they can really play. joooooopay!

last night was soooooo much fun. it's really THE best way to end the term break.
eka, kean, mac, aaron, bessy, tatzi, janel and the rest of the bunch... had soooo much fun. but i wish mar, aggie, josh and ben were there.. it would have been extra fun. oh well.

Rock On!

haha.


blotted @ 5:08 PM


--------------------------------------------------------------------------------------------


Saturday, September 10, 2005


I wanna have super powers



i

DONT

wanna go back to school yet. my three weeks vacation is over in two days. Ohmen. i'm just sucking every last minute of my care-free-no-money life. On monday, i just wish that the train would take me to

Sky High

. oh please oh please take me to sky high so i wouldn't have to take math and chem and instud.. instead i'm training my supah powers! haha. the movie might seem corny and kiddie, but i really enjoyed it. it's like

Harry Potter meets The Incredibles.



i know it's shallow.

really shallow

, in fact. but clothes make me happy. besides the fact that im in love with Seth Cohen, im also in love with clothes. i just can't get enough of it.. even though i dont have money. clothes make me happy.

oh and yesterday, i was going to buy new books to read, i went back and forth Powerbooks and National Bookstore, but i ended up buying Alamat ng Gubat by Bob Ong. Apparently, all the books that i want are out of stock. sheesh.

anyhoo. im gonna read gossip girl now.
blotted @ 1:24 PM


--------------------------------------------------------------------------------------------


Wednesday, September 07, 2005


i refuse to be denied of this one last pleasure...

going to

divisoria

. on the last minute, my blockmates backed out of going to divi because (a)parents didnt allow them due to the rally on GMA's impeachment and (b)since some are not going, they're not going too.

BUT.

despite of my loner-ness.. who cares? i went to divi,

alone.

last time i went there was last Feb pa! you could just imagine how hyper my sugar rate went. i wanted to buy the whole 168. after hours of shopping, my feel still didn't give up, but my pockets did. i had to go home coz technically, i ran out of money. haha.

i shall return.
blotted @ 2:20 PM


--------------------------------------------------------------------------------------------


Monday, September 05, 2005


feeling better



i don't know what happened.. if this is because of Carrie Bradshaw or that Pasta that i made last sunday, but im feeling much better actually. i got this from Mm, and i find it really really nice. thought i'd share it.

sometimes we wish we were small..
wish we were somewhere..
wish we had that someone..

but sometimes, we wish too much that we miss enjoying

who we are..

where we are..

and who we have.. :)

oh! and here's something else that you've got to read. it's gonna crack you up. it made me gag like a crazy person. im shallow, i know.



Daddy:

Nak, bili mo ko ng softdrinks


Anak:

Coke o Pepsi?


Daddy:

Coke.


Anak:

diet or regular?


Daddy:

regular.


Anak:

bote o in can?


Daddy:

bote


Anak:

8oz o litro?


Daddy:

Punyeta TUBIG NA NGA LANG!


Anak:

mineral o natural?


Daddy:

mineral


Anak:

malamig o hindi?


Daddy:

*toooot* hamapasin kita ng walis eh!


Anak:

tambo o tingting?


Daddy:

HAYOP KA!


Anak:

baka o baboy?



HAHA.

see, i really do feel better now, huh? *smile*
blotted @ 11:27 PM


--------------------------------------------------------------------------------------------


Saturday, September 03, 2005


too much free time, too much thinking



23 episodes later, i've finally finished my Sex and the City season 6 marathon.

I've been like this for days.. yes, for days. The other day, aggie and i were texting, then she told me that i should be happy because i have things going for me.

things going for me.



well,

i thought so too.



if things are going for me, then why am i not happy? seriously. i dont know what's wrong with me. this too much free time is making me see how totally looserish and pathetic my life can be. and yes, i am drowning in self pity right now and getting mad at my self for being like this. i need someone to put some sense in me.

i'm not going to be carrie bradshaw right now because 1. im not good in writing and 2. i dont have $495 Manolos and 3. my mind's scattered in different places. so forgive me if this post would be scattered too. but Carrie did hit me in some places that just made me think some more.



"why is it always something?"



something something something. i realized that material things (that includes grades) isn't going to make you completely happy. or maybe im just being close minded. no one's ever satisfied anyway, especially when it comes to material things. sure, you can buy a whole Bayo outfit now, but it's just temporary happiness. 10mins after you pay in the counter, you start looking for another outfit to get. i think that everyone's looking and waiting for something. im not going to deny it, but i am too. though honestly, i dont know what that something is but i know that that it's got something to do with me finally being thinking-free.



"is it time to stop questioning?"



it's just never going to be answered. this questions will just keep on coming. when you finally get one question answered, it will only lead to another questions. these questions are doubts. anxieties.


"But the most exciting, challenging and significant relationship of all is the one you have with yourself."

it's challenging, and it's a battle. the only one who makes me feel this way is myself. and until i continue to torture myself, i'm neve going to get over this. there's a lot of self-pity in me right now. i just wish by morning it will all go away.

if you reach this part, well, i didnt even think anyone would read this. sorry, this post is so pathetic.
blotted @ 11:30 PM


--------------------------------------------------------------------------------------------


Thursday, September 01, 2005


Notting Hill



it's 2:44am, the movie just ended and my eyes are all wet.

shallow. but im a sucker for this movie.



im also just a girl standing in front of a boy asking him to love her.


blotted @ 2:43 AM


--------------------------------------------------------------------------------------------